Youth Hostel Linz
Linz, Oberösterreich, Österreich

W-Lan

pets allowed

Suitable for groups

Non-smokers

Suitable for pushchairs

---
Low-priced and comfortable guesthouse for single travellers, families, cyclists and groups without age limit. Centrally located in a quiet, green area next to the stadium, free parking, 100 m to bus stop, all rooms with shower/WC.
Information
Number of seminar room/s: 3
Largest seminar room: 80m²
Total internal floor space: 296m²
venue location - free technical equipment
Beamer
W-Lan
TV
Whiteboard / flip chart / pinboard
Room details
Room details
Room name
Area
Cinema
U-shaped form
Bruckner
70

m²

40
20
Haydn
70

m²

40
20
Mozart
78

m²

60
30
Strauss
78

m²

60
30
Cinema U-shaped form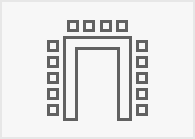 Number of rooms/beds, maximum occupancy
Number of rooms: 63
Number of beds: 252
Number of rooms per room type
Multiple bedroom: 1
Room suited for wheelchair users: 2
Room information
handicapped accessible rooms
General equipment
Lounge
TV room
Garden
Internet corner
Elevator
Wifi (free of charge)
Blankets available
Bedcovers available
Gastronomy
Breakfast room (Non-smoking area available )
Garden / Patio
Sport and recreational facilities
Bicycle parking (lockable)
tennis
Ping-pong table
Half-board
Full-board
Dinner
Breakfast
Breakfast buffet
Lunch box
Lunch
Completely suitable for wheelchairs. The object complies with the legally stipulated ÖNORM.
other information
Entrance to the building
Restaurant / coffee shop
Toilet facility for disabled people
Room
Lounge and seminar rooms
Outside area
Accessibility / arrival
​
Parking
Parking space: 40
Parking area for disabled: 1
Bus parking space: 3
Parking fees
free of charge
Prices
Single room: From € 36,50 (per person/night)
Doubleroom: From € 30,50 (per person/night)
Multiple bedroom: From € 28,00 (per person/night)
Discounts (Age-related / Groups)
Children
Student groups with school class
Groups
Discounts (Memberships)
ARBÖ member

DONAU-Card

Family Card OÖ

Suitable for groups
Suitable for schools
Suitable for pushchairs
Pets allowed
Suitable for teenagers
Suitable for single travelers
Suitable for bus tour groups
Suitable for families
Suitable for seminars
Suitable for friends
Suitable for couples
Suitable for children
Room / apartment available for non-smokers
Contact
---
Youth Hostel Linz
Stanglhofweg 3
4020
Linz
Phone
+43 732 664434
Fax machine
+43 732 664434 - 75
E-Mail
linz@myhostel.at
Web
www.myhostel.at
Web
www.oejhv.at
http://www.myhostel.at
http://www.oejhv.at
---
Contact person
Mrs Dolores Buchgeher
---
Legal contact information
Österreichischer Jugendherbergsverband, Landesgruppe Oberösterreich
Bürgerstraße 5
AT-4020 Linz
---
---