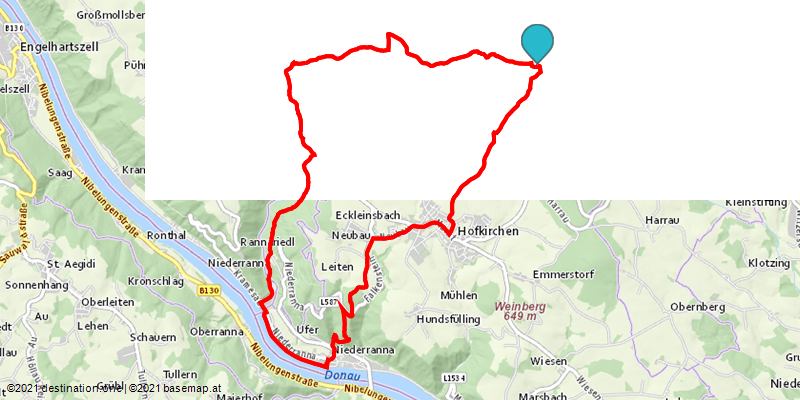 Donausteig: Pfarrkirchen: Great Views Loop Trail
The following photo gallery can be navigated with the arrow keys (left, right).
Special features
culinary interesting
culturally interesting
Flatly
Possible accommodation
Board possible
Pets allowed
All weather
suitable for families
Suitable for groups
Tour and route information
Starting place: 4141 Pfarrkirchen im Mühlkreis
Destination: 4141 Pfarrkirchen im Mühlkreis
Length: 15,6 km
Altitude difference (uphill): 664m
Altitude difference (downhill): 657m
Lowest point: 284m
Highest point: 821m
Panoramic view:
Dreamtour
Best time of year
: April - October
Nice views, Cultural/historical value, Botanical highlights, Faunistic highlights
Equipment
: Regular hiking equipment
Technique
: ***
Experience
: ******
Loop trail past the Rannatal Nature Reserve, Falkenstein Castle Ruins and Altenhof Castle.
We start in Pfarrkirchen and walk southwards past the elementary school. We cross the golf course to get into the forest. On country lanes and roads we get to Hofkirchen, where we take a right turn. We walk towards "Neubau". After the last farm we hike downhill to Niederranna through the forest. In Niederranna we hike along the Danube towards Rannamühl (starting place: Rannamühl). There we take a right turn into the Ranntal Nature Reserve and hike then uphill towards Falkenstein Castle Ruins. We leave the forest and get to Altenhof (Altenhof Castle). Past Wehrbach we get back to Pfarrkirchen.
Webcam of Pfarrkirchen
Author's recommendation
Rannatal Natura 2000 Area – new since January 2010
Falkenstein Castle Ruins
"Verlorenes Reith" resting place (dreamlike view)
Altenhof Castöe
Pfarrkirchen panoramic view (dreamlike view)
Pfarrkirchen Baroque Chruch (Carlone painting 1698)
Arrival
Accessibility / arrival
Public transport:
Bus:
www.pfarrkirchen.at
,
www.ooevv.at
,
www.postbus.at
Boat:
www.donauschiffahrt.de
Getting there:By car: From Austria:
A1 autobahn to Linz, from Linz on the B127 to the Altenfelden roundabout, junction towards Lembach-Hofkirchen, continue to the Pfarrkirchen junction
From Germany:
On the A3 autobahn to Passau Nord. On the B388 towards Wegscheid to the Oberkappel (border) junction. Follow the signs for Pfarrkirchen from Oberkappel (crossing).

By train:
www.oebb.at
From Austria:
Mühlkreisbahn train to Neufelden train station, from there by taxi (Heinzl company in Pfarrkirchen) to Pfarrkirchen.
From Germany:
Passau train station, from there by taxi (Heinzl company in Pfarrkichen) to Pfarrkirchen.
By boat
: on the Danube to Niederranna landing stage. From there by taxi (Heinzl company) to Pfarrkirchen.
www.donauschiffahrt.de
How to get there

Parking:
Village of Pfarrkirchen
Rannamühl next to the starting place
Travelling by public transport
Route planner for independent travellers
Suitability
All weather
Suitable for groups
Suitable for schools
Suitable for families
Suitable for seniors
Suitable for single travelers
Suitable for friends
Suitable for couples
Suitable for children
Along the trail
The parish of Pfarrkirchen is one of the oldest in Austria. It was established in the 12th century.. Because of the location, the size and the facilities, the church of Pfarrkirchen was a visible...
River miles: 2194,7+50 bis 2194,7-50 Shore: left bank System: pipe pontoon Harbour regulations: 2 boats (max. width 32 m) Boarding height: 1,55 m Infrastructure: on demand at WGD Approx. 33 km...
The regiment was first mentioned documental in 1140, when it was in the possession of Lord Falchenstain. After the house became extinct, Falkenstein got to the Witigons in 1227. Through...
The castle of Altenhof was first mentioned documental in 1200 and since 1602, it is in the possession of the count's family Salburg-Falkenstein. The castle with church, which is 600 m above the...
Wanderweg
Starting place: Pfarrkirchen im Mühlkreis